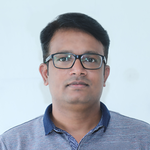 Mayuresh Saka
Associate Manage - Visual Design at
Upside Learning Solutions Pvt. Ltd.
Hello everyone, Is there a way to stop a motion animation on a trigger? Sharing a sample of motion animation where ...
Hi,  I have seen many discussions regarding video playback issues on IOS 10.2. I am also facing same issue while vi...
Hi, As mentioned on the website under FAQ for Rise "Are Rise courses compliant with accessibility guidelines? Ri...
Hi, I am creating a project with using the default player and having the seekbar enabled. When clicking a button on ...
Hi, I am creating a course which has default player, and need to be accessible by pressing the tab button on keyboar...
Hi, I am using web objects on slide layers. when user click the button on base layer the slide layer opens and a vid...
Hello,  This is regarding re-usability of customized templates in Articulate Storyline 2 (Update 5: 1505.515).  Cur...
Hi, I have created a course in which i have a question bank. there are 20 question in the question bank out of which...
Hi Everyone, We have a few questions about application-simulation based modules in Storyline. The modules will inclu...
Hi, I am using the scrollbar for button and also for text. when view on desktop it works well and on Ipad it does no...
Hi, I am creating my first course in storyline 2 that needs to comply with Section 508 Accessibility. What does "Ma...
Hi, i am working on 2 projects, one is for storyline 1 and the other is for storyline 2. I have 2 different license ...
Hi, i am working on a simulation project where user needs to right click on screen to open the menu. i have set the ...
Hi all, i have created a course using the default player of storyline. i have added layers and created a interactiv...
Hi,  O want to access the menu (which by default come on left side or we can change it to show hide by a "Menu" butto...